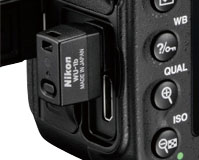 The WU-1b  accessory for the Nikon D600 allows you to share images and control your camera using smartphones, tablets and other WiFi devices. The adapter connects into the micro USB port on the side of the D600. It allows wireless viewing of the live image from the camera LCD on external devices. The WU-1B also allows remote control of the camera, including remote shutter operation.
In addition, the WU-1b can wirelessly share and upload images to your favorite social network. Appilcations are available for Androis and iOS devices, including Apple iPhone, iPad.
Suggested retail price: $59.95
Order WU-1b at Amazon
Order WU-1b at Adorama
Order WU-1b at B&H Photo
Order WU-1b at J&R
Supported devices:
Android platform (2.3 or later) smartphone
Android platform (3.0 or later) tablet
iPhone and iPad (iOS version 5.1 or 5.1.1) to be released September 15, 2012.
Maximum distance: 49 feet
Supported Network Protocols: Wi-Fi 11b/g/n