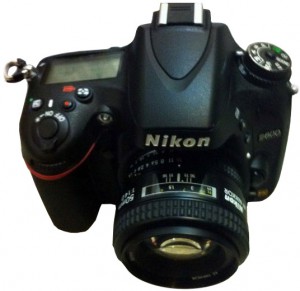 The Nikon D600 is expected to be announced before Photokina in September, with a possible press unveiling on September 13, 2012. This is according a recent post on Nikon Rumors. They include a picture from Ourdoormac that was put together using other cameras and is not accurate. It lacks the command dial on the front and the shutter release is the old style chrome. The real Nikon D600 will have a contoured shutter release similar to the D800, as well as a command dial and a black shutter button.
There are rumors swirling around the Sony A99, the most interesting development coming via SonyAlphaRumors. Most notable is the news that the A99 will feature phase detection on the sensor, similar to the Nikon 1.  It has been said that Sony will supply the 24MP D600 sensor. Sony produces many sensors for Nikon, including the 36MP sensor used in the Nikon D800. Previously it was believed that the A99 sensor would also be used in the D600, however it is not clear if the D600 will have on-sensor phase detection. By placing phase detection on the sensor, auto focus speed and accuracy can be increased, and it also allows phase detect focusing to be used during Live View and video recording. Previously, these functions relied on contrast detect auto focus, which has been slow in previous Nikon DSLR implementations.
One might question the use of on-sensor phase detect, when Sony also uses their translucent mirror (SLT) technology to provide off-sensor phase detect. The reason for having both may be to provide additional accuracy and speed. Rumors that the A99 will provide the "fastest AF of any DSLR" may hold true for the A99. Will Nikon D600 also be able to make any such claims?